Elope Gold Coast
Evergreen Garden is the perfect place to elope on the Gold Coast. Our spectacular private garden, the beautiful weather and Evergreen Garden's exceptional service make this a match made in heaven.
We look after everything for you – Celebrant, Florist and Photographer we have it all. Your fairytale elopement in Evergreen Garden is waiting to unfold… it's all about the love and commitment to each other.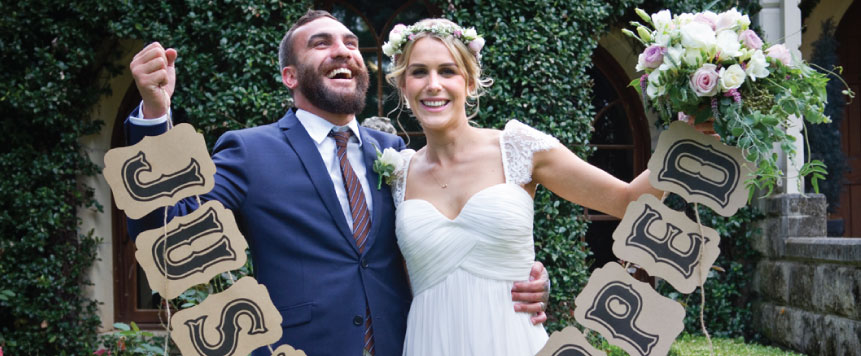 Please select from our packages:
Elopement Package -$4,990
Our elopement package caters to those looking for an intimate ceremony for up to 8 people including the couple. Eloping in Evergreen Garden is the perfect place to share this cherished moment with your closest loved ones. Capture your memories in our secret garden where everything will be organized for you, so you can relax and enjoy your dream day.
INCLUDES:
Garden venue for 2 hours of complete privacy for you and your guests
Ceremony includes Americana chairs & signing table
Celebrant to officiate your wedding
Florist – Bridal bouquet, Groom's buttonhole
Petals for the aisle
Photographer – 2 hour package including photos
CONDITIONS:
Elopement packages are available Monday to Thursday.
Available up to 12 pax, extra guests are $55 per person.
Evergreen Garden is an outdoor venue that closes by 9 pm
ADDITIONAL EXTRAS:
A Private reception with Seated dinner or High Tea Lunch is also available on request.
Marquee is available at an additional cost
MID WEEK MINI
Ceremony & Reception-$16,990
Here in the peaceful, secluded garden you can marry the one you love and then celebrate with your own private, elegant reception.
This package is available Monday to Thursday and includes Venue, Celebrant, Florist, Photographer, Catering, Non- alcoholic beverages and Styled Reception, everything except your wedding cake and if you would like we can arrange that for you too.
Everything is arranged to the finest detail: Flowers are delivered, tables are set, private chef is preparing, photographer is ready, celebrant poised and the background music sets the scene. It's your wedding day!
INCLUDES:
Wedding co-ordinator to oversee arrangements & suppliers
Ceremony & reception for 6 hours of complete privacy for you & your guests
Package numbers up to 20 persons including couple.
Ceremony includes Americana chairs & signing table.
Private coach to bring your guests to and from venue.
Celebrant to officiate your wedding.
Florist – Bridal bouquet, Groom's buttonhole & petals.
Photographer – 2 hour package including photos.
Personal host to assist you on your wedding day.
Tables beautifully styled with linen & fresh vase flowers.
Catering included, based on selected menu.
Tiffany chairs & choice of long or round tables.
Timber bar setup, including non-alcoholic beverages.
Bar staff for service of your BYO beverages​.
​PLEASE NOTE:​
Evergreen Garden is an outdoor venue that closes by 9 pm.
Marquee is available at an additional cost.
This package is available Monday to Thursday.
Boutique Weddings
A Little Family Wedding
Average rating:
4 reviews
Jan 9, 2018
Perfect
Everything at Evergreen was perfect for our elopement! We aren't traditional in any sense so it was amazing how we were totally accommodated for! We made our booking at evergreen completely online, had never seen evergreen until the day as we are from Melbourne, and had only spoken to Marina via email. We were blown away by how amazing it is in person - it's even more beautiful than in the photos! Marina and John are the nicest people you could ever meet and we are so happy they were a part of our day. They are full of positive energy and looked after our every need and requests! We used their recommended celebrant, photographer, florist, and hair and makeup artists - all of them were amazing people, great at their jobs, reliable and made our elopement beautiful. We cannot thank you enough Marina and John!
Mar 31, 2016
EXCEPTIONAL VENUE & HOSTS!!!
Exceptional service from our first enquiry though to last minute additional needs. Coming from Melbourne and planning a wedding from interstate was a little scary at first, but from my first phone call with Marina I knew we had chosen the perfect venue/host. Marina had everything under control. Attention to detail was above & beyond our expectations. Marina's professionalism and warm and caring nature towards our wedding day and the beautiful grounds of Evergreen garden venue, made our wedding day feel like a magical fairytale beyond our wildest dreams. I will feel forever grateful to Marina & John for all their work that went into making our special day a dream come true.

THANKYOU MARINA & JOHN.
Nov 3, 2015
Perfect Day
We traveled with our family from Adelaide and could not have been more thrilled with the beautiful venue and garden. Marina was amazing in organizing the most wonderful people for hair,makeup,flowers Photography and delicious food. On the day everyone was so supportive and friendly, it ran like clockwork. Thank you again to Marina and her husband for the most perfect day.
May 26, 2015
Interstate made easy.
We traveled from interstate for our wedding day.

The team at Evergreen Gardens couldn't have made our day easier!

Marina was prompt and professional in all communications, she put my bride and I at ease with her polite and easy going nature and was an absolute pleasure to deal with in all aspects.



The venue is incredible and kept to a pristine standard. All of our guests could hardly believe their eyes upon walking through the gates at Evergreen Gardens.



The team were also fantastic at running the show behind the scenes.

As you will find out, on your wedding day you don't have the brain space to be directing every little movement during the ceremony. This is precisely what the Evergreen team do for you and you won't even notice it at the time.



This all culminated into a perfect wedding day for us which I sincerely thank Evergreen Gardens for.



Thanks guy's!