To elope on the Gold Coast could not be a better way to celebrate your commitment in a calm, stress free way. The beautiful weather and Evergreen Garden's exceptional service make this a match made in heaven. It's all about the love and commitment to each other. Elopements take the stress out of such important occasion and what is left is sheer joy!
We look after everything for you – have your fairytale wedding in Evergreen Garden and then your spectacular honeymoon on the Gold Coast.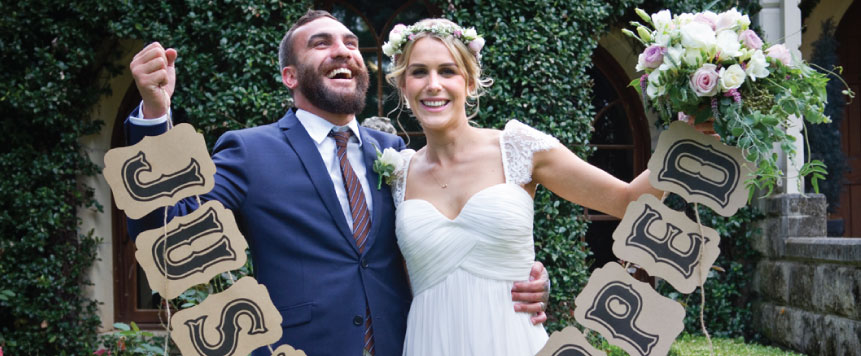 Elopement Package -$4,400
Our elopement package caters to those looking for an intimate ceremony for up to 8 people. Celebrate this day privately together or with your loved ones. This day is all about the sharing of two peoples love and commitment to each other. Capture those memories in the beautiful Evergreen garden where everything will be organized for you, so you can relax and enjoy your dream day.
INCLUDES:
Garden venue for 2 hours of complete privacy for you and your guests
Ceremony includes Americana chairs & signing table
Celebrant to officiate your wedding
Florist – Bridal bouquet, Groom's buttonhole
Petals to line the aisle
Photographer – 2 hour package including photos
CONDITIONS:
Elopement packages are available Monday to Thursday
I pod, harpist & live acoustic music is permitted
All outside suppliers must be approved by the venue
Evergreen Garden is an outdoor venue that closes by 9 pm
ADDITIONAL EXTRAS:
A Private reception with Seated dinner or High Tea Lunch is available
Hair & Makeup, Limousine service, or Videographer
Marquee is available at an additional cost
Elopement with Garden Party -$15,500
Celebrate your intimate wedding in style and privacy in the beautiful Evergreen Gardens. Here in the peaceful, secluded garden you can marry the one you love and then celebrate with your own private, elegant reception. This package is available Monday to Thursday and includes Venue, Celebrant, Florist, Photographer, Catering, Non- alcoholic beverages and Styled Reception, everything except your wedding cake and if you would like we can arrange that for you too. Everything is arranged to the finest detail: Flowers are delivered, tables are set, private chef is preparing, photographer is ready, celebrant poised and the background music sets the scene. It's your wedding day!
INCLUDES:
Wedding co-ordinator to oversee arrangements & suppliers
Ceremony & reception for 5 hours of complete privacy for you & your guests
Package numbers up to 20 persons
Ceremony includes Americana chairs & signing table
Private coach to bring your guests to and from venue.
Celebrant to officiate your wedding
Florist – Bridal bouquet, Groom's buttonhole & petals
Photographer – 2 hour package including photos
Personal hostess to assist you on your wedding day
Tables beautifully styled with linen & fresh vase flowers
Catering included, based on selected menu
Tiffany chairs & choice of long or round tables
Timber bar setup, including non-alcoholic beverages
Bar staff for service of your BYO beverages​
​PLEASE NOTE:​
I pod, harpist & live acoustic music is permitted
All outside suppliers must be approved by the venue
Evergreen Garden is an outdoor venue that closes by 9 pm
Marquee is available at an additional cost
This package is available Monday to Thursday
Boutique Weddings
A Little Family Wedding